Prep for 'Prometheus' with 'The Book of Alien' and 'Colonial Marines Technical Manual'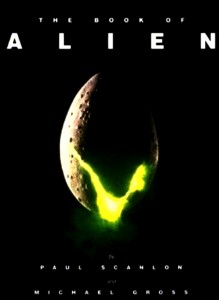 In 1979, director Ridley Scott revolutionized the sci-fi genre with his landmark film Alien. The movie's realistic future mixed with Swiss artist H.R. Giger's grotesque alien design, terrified viewers. Using Scott and Giger's work as a foundation, James Cameron created the action-packed sequel Aliens in 1986. Although Cameron's film concentrated less on horror, he introduced equally grounded and imaginative technology to the same universe.
Sadly the franchise declined with the following sequels, Alien 3 and Alien: Resurrection. However this weekend, Ridley Scott hopes to revitalize science fiction horror with his epic flick Prometheus, which is rumored to an Alien prequel. In preparation for my viewing of the film, I checked out two paperbacks recently re-released by Titan Books: The Book of Alien and Aliens – Colonial Marines Technical Manual.