Awards Season Movies: Mini Reviews Part 1
Lately I've been seeing awards season movies faster than I can write full reviews of them. I've decided that from now until my screener pile is diminished, I'll be serving up mini reviews of the films that I'm watching at home. The idea is to give you my gut reactions to the flicks from 2012 that people are talking about, and to let you know exactly which ones are worth your time.
This is 40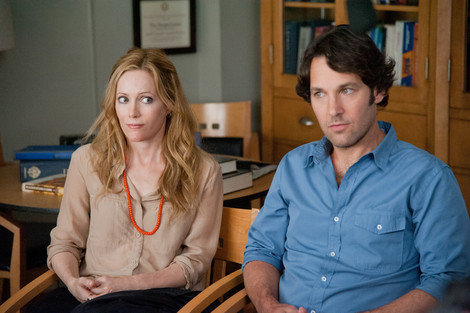 "This is 40," is so depressing and irredeemably unfunny that I couldn't even finish it, and I almost NEVER turn off movies. For a comedy, there are few laughs to be found, aside from some scant one-liners from Paul Rudd. If this is actually what 40 looks like, I'd like a gun and a single bullet to end it all. That way I could avoid experiencing the sad, miserable life that Pete (Paul Rudd) and Debbie (Leslie Mann) have in this film. At least I wouldn't have to suffer the same embarrassingly moronic spats or have a marriage suffocate from having spoiled children like theirs.
HOWEVER, I'm not going to bother with the gun because I don't think this is what turning 40 would really be like. Not only are Paul Rudd and Leslie Mann's characters way more immature than the average person, but their upper-middle class financial problems are idiotic and self-inflicted. You don't need an iEverything or a $30,000 neon sign in your office.  You also shouldn't be giving your father $80,000 to finance his ill-conceived second family. After a certain point I just didn't care enough to see how the movie ended since all of these people suck so damn much.
My Grade: F (Because I had to turn it off)
ParaNorman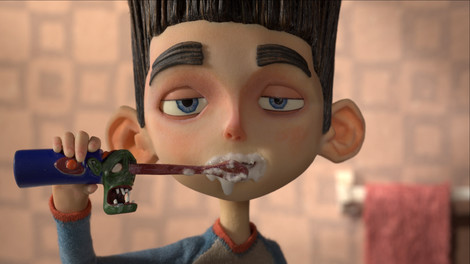 This kid who can see dead people is way cooler than the one in that M. Night Shyamalan movie. His gift is amusing without being scary, but it does cause him to be stereotypically misunderstood. His family doesn't get him and neither do the kids at school so the poor guy gets picked on a lot. You better believe everyone will count on him though when a horde of zombies and spirits takes over their sleepy town.
As I watched "ParaNoman" I could tell the filmmakers just had a really good time making this silly film. There are great nods to low-budget horror movies and amusing jokes about zombies, witches, and ghosts littered throughout. The claymation style animation is crazy impressive given the tremendous detail poured into the characters and their tiny props. It's well-blended with CG to produce an immersive adventure. Another strong point to the film is its tremendous voice work by talented actors with colorful personalities like Anna Kendrick, Leslie Mann, Jeff Garlin, John Goodman, and Casey Affleck. If I have one complaint it's that the story and dialogue are too heavy-handed with their messages about accepting others. I'm all for tolerance in real life and I think it's a great message to teach kids who will see the movie, it just doesn't need to be so spelled out.
My Grade: B
Moonrise Kingdom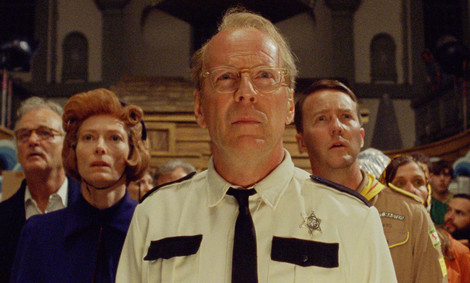 Even as a Wes Anderson fan, I had a difficult time getting emotionally invested in "Moonrise Kingdom." Anderson magnificently crafts the fictional New England island community where this tale takes place and painstakingly recreates the mood the 1960s. His aesthetic is unrivaled and his camerawork is superb. He uses smooth sweeping motions and takes his camera to unusual, yet entertaining places inside houses and on the roofs of cars.
Anderson's breathtaking art direction and cinematography, are wasted however on a mediocre story and bad acting. This tale about two oddball kids who are star-crossed lovers failed to hook me. Neither the characters nor the conflict have enough substance. Plus, you know something is wrong when the finest performance comes from an action star like Bruce Willis and not from Bill Murray or Frances McDormand. Edward Norton isn't turning in his finest work, though at least he's amusing. "Moonrise Kingdom" kept me at a frustrating distance like a beautiful diorama that I could look at, but wasn't allowed to touch.
My Grade: C
The Best Exotic Marigold Hotel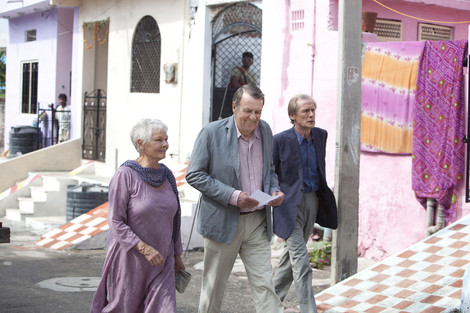 "The Best Exotic Marigold Hotel" landed in my top 10 films for 2012 immediately after I watched it because it's a well-made, uplifting story. For a movie about old people it moves unexpectedly fast in the beginning, and continues to remain well-paced throughout. There's sharp dialogue, heartfelt performances, and poignant statements about the challenges and opportunities of old age.
I dug the music and the editing quite a bit, however my favorite part about this flick was the amazing ensemble cast of British actors. Bill Nighy, Maggie Smith, Tom Wilkinson, and Judi Dench all act their hearts out, giving nuanced performances in this picture. The only thing that comes off a bit forced is the nontraditional Indian romance between the hotel's young owner (Dev Patel) and his girlfriend who works in a call center. His mother tries to meddle in his affairs and as you might suspect he needs the team of older, wiser British folks to come to his rescue.
As Patel's character says though,"Everything will be all right in the end, and if it's not all right, it's not the end."
Amen.
My Grade: A
Hello I Must Be Going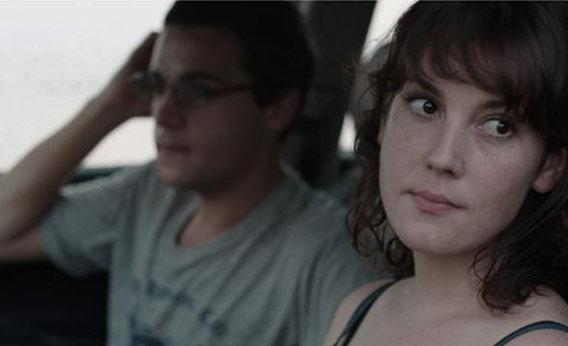 Initially I was very fond of the sentiment for "Hello I Must Be Going." I liked the premise of Amy (Melanie Lynskey), a middle-aged woman whose life is in disarray, meeting a younger person who gets her to come out of her shell. The theme of a young lover teaching an older woman things about herself and helping her get everything back on track was appealing because usually it would be the other way around. Once I started watching the film I realized that the plot is pretty meandering and has other elements to it that distract from that main idea.
All of the terrible nagging and passive aggressive behavior from Amy's status obsessed mother (Blythe Danner), and arrogant judgement by her brother just made me realize how much status-obsessed family members suck. Their mean behavior really started to wear on me as did the incredibly stilted dialogue spoken by all of the characters. Lynskey anchors the movie, with a heartbreaking performance that perfectly embodies the crushing despair of a divorcee with nothing left. However I found myself frustrated at the end by her inability to fully learn from her mistakes and to move forward with her life in a more positive manner.
My Grade: C