Awards Season Movies: Mini Reviews Part 3
Since I've been seeing awards season movies faster than I can write full reviews of them, I'm writing mini reviews until my screener pile is diminished. The idea is to give you quick reactions to the flicks from last year that people are talking about, and to let you know exactly which ones are worth your time.
My latest round of reviews features my thoughts on "Beasts of the Southern Wild," and "Anna Karenina."
Beasts of the Southern Wild
"Beasts of the Southern Wild" is another film from 2012 that earned tons of acclaim before I had a chance to see it. After I finally watched it, I understood why people enjoyed it; I just didn't feel the same level of attachment. It deserves props however for being one of the most original tales I've seen in recent memory.
The movie is narrated by Hushpuppy (Quvenzhané Wallis), a precocious girl with a vivid imagination, who lives with her terminally-ill father Wink (Dwight Henry), in a fictional section the Louisiana bayou called The Bathtub. Although residents of The Bathtub live in poverty, they are rich in spirit. Children like Hushpuppy are taught in school that the only thing that matters is day-to-day survival. These teachings are put to use when a brutal hurricane tears through the area. A few people, including Wink and Hushpuppy have nowhere to go, so they attempt to stick it out on flooded terrain. Even after they're forcibly evacuated by the government to a shelter, everyone escapes and runs back to their homes in The Bathtub.
With his first feature, writer/director Benh Zeitlin crafts a beautiful looking film that celebrates the grandeur of the movie's Louisiana settings. He also gets you to realize a certain bizarre splendor in squalor of The Bathtub, something you don't expect. Zeitlin's excellent directing extends into the moving performances he coaxes out of untrained actors like Wallis and Henry. Wallis was only six-years-old when the film was shot, yet she performs complex narration and shows a wide range of emotions. Additionally Henry's Wink is incredibly layered, and remarkably sympathetic; a delicate balance between a cruel, irresponsible father, and a loving one, doing the best that he can.
"Beasts of the Southern Wild" kept my attention, although ultimately I found its narration and daydreams about prehistoric creatures too abstract to fully engage me. Plus at times, the poverty shown in the film and the tragedies that befall its characters made me incredibly depressed. On the flip side, this misfortune helps to reveal strong statements about survival and the human spirit. While I liked these aspects about endurance and determination, I didn't love this movie enough to want to watch it again.
My Grade: B
Anna Karenina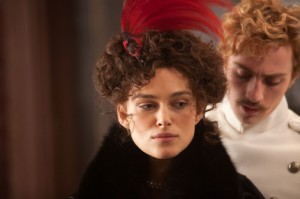 I'm not easily confused when it comes to movies, so if there's one like Joe Wright's "Anna Karenina" that quickly befuddles me, that's a problem. For the first 10-15 minutes of Wright's film, I had absolutely no idea what was going on. I didn't want to blame the picture right away though. My first suspicion was that I was lost because I never read the Tolstoy classic that Wright's film adapts. But then I realized there surely would be other people watching it in the same situation, and that the movie needed to clue us in somehow. That's when I came to the conclusion that Wright's method of storytelling was keeping me from processing everything properly.
"Anna Karenina" starts off at such a brisk pace that it barely allows you time for one scene to sink in before it jumps to the next. As a result, it's difficult to figure out who the characters are and how they relate to one another. After a few minutes you start to grasp the major players and their motivations, however you never really feel a chance to connect with them because you're primarily focused on the film's main visual conceit happening around them. Wright blends cinematic elements with those of theater, setting the story up as a pseudo play, using a stage to frame much of the action. In the beginning he leans very heavily on this trick. Every scene appears to be a single shot, strung together as set pieces around the characters shift to create new surroundings. It's actually pretty cool for the first few minutes, but it doesn't take long for it to grow old.
Unfortunately "Anna Karenina" is one of those movies where style trumps substance. Wright seems most concerned about creating a vibrant period piece with elaborate set pieces, grand costumes, and detailed choreography. While all the spectacle is fascinating, it distracts you from the story, the characters, and the performances of the actors. How were the performances? I don't even remember. Even love scenes which should be intimate, steamy conversation with the viewer take on a ridiculous quality with all of Wright's odd camera spinning and random shots of body parts. If I can't tell what parts belong to each character, you're doing it all wrong. Mr. Wright, you lost me at hello with "Anna Karenina."
My Grade: C