Book Review: 'Dark Shadows: The Visual Companion'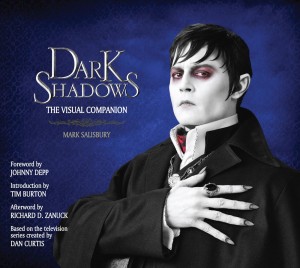 I'm not the target audience for Mark Salisbury's book Dark Shadows: The Visual Companion. That's because I never saw the 1970s soap that inspired Tim Burton's film "Dark Shadows," and I didn't find the movie particularly entertaining. I thought it was better than Burton's "Alice in Wonderland," but not one of his all-time best. However, I am a sucker for coffee table books, especially ones about movies, which is why I decided to check out Dark Shadows: The Visual Companion. I knew it would be a quick, easy read with lots of big glossy photos and fascinating behind the scenes stories. And it didn't disappoint!
Dark Shadows: The Visual Companion features a foreword by Johnny Depp, the movie's lead actor and frequent Burton collaborator, as well as an introduction by Burton himself. Neither of these statements are very long, although Depp's foreword is especially entertaining. Even if it was ghostwritten, the section captures his unique voice perfectly with statements like "The character of Barnabas Collins possessed a sense of elegance that bewitched me."
Following these opening statements is a section on the history of how the project came to be, which annoyingly repeats some of the same sentiments expressed in Depp and Burton's intros. After that, the book delves into original material again, taking a logical approach to organizing itself: Chapter 1 (Cast), Chapter 2 (The Sets), Chapter 3 (Costume, Hair & Makeup, Prosthetics), Chapter 4 (Cinematography, Stunts, Special Effects), and Chapter 5 (Visual Effects, Editing, Scoring).
Each chapter contains a pleasing mixture of behind the scenes photos, concept art, and anecdotes from the cast and crew. Frustratingly though, captions are not placed next to images. Instead there is a single page in the back which has them, forcing you to flip back if you want to know who or what is featured on a specific page. The most hilarious interview snippets come from Depp of course, who is the only person in the book who requires censoring. He drops an f-bomb, which is politely altered so as not to offend readers.
My favorite discoveries mainly involved how the filmmakers created the costumes, sets, and effects for this supernatural flick. I loved hearing about how movie magic was used to create this quirky world. Although it was also intriguing to learn that Michelle Pfeiffer who plays the Collins family matriarch, was a huge fan of the "Dark Shadows" television show and practically begged Burton for a role in the movie.
Perhaps the most bittersweet part of Dark Shadows: The Visual Companion, is its afterword by the late producer Richard D. Zanuck, to whom the book is dedicated. Zanuck had an extremely long and successful career working on many iconic films, so it's surprising to hear him describe this cast and his crew as one of his all-time favorites. I wonder how much of his statements were derived from truth, and whether he was putting on a kind face for publicity's sake. Unfortunately we'll never get the chance to ask him.
Despite my lack of enthusiasm for the film "Dark Shadows" I still dug Mark Salisbury's book, so if you're a huge fan of Burton, Depp, the movie, or the television show, you'll probably have just as much fun with this book.
Dark Shadows: The Visual Companion is available in stores and online at www.titanbooks.com.