Book Review: Dracula Cha Cha Cha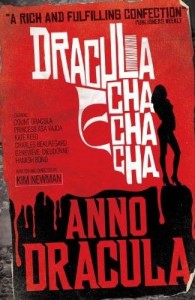 Dancing the cha-cha-cha, doesn't compare to the excitement of flying biplanes.
Back in May, Kim Newman's novel Anno Dracula: The Bloody Red Baron, hooked me with its engaging blend of real life figures and fictional characters, as well as its fast-paced espionage and intrigue. Based on that, I was excited to read his follow-up book, Dracula Cha Cha Cha, because I anticipated another exhilarating adventure in his alternate reality where humans and vampires coexist. Unfortunately for me and my expectations, Cha Cha Cha fails to measure up to the high standards set by its predecessor.
Dracula Cha Cha Cha takes place roughly 40 years after the events of The Bloody Red Baron. Following World War II in this universe, Count Dracula slipped into relative obscurity, secluding himself in a castle near Rome. Now in 1959, Dracula plots to marry Moldavian princess to return himself to a seat of power as Lord of the Undead. Meanwhile, journalist Kate Reed arrives in Rome to visit her ailing friend Charles Beauregard, a retired spy who lives with his vampire companion Geneviève. Along with the undead British secret agent Hamish Bond, Kate and Geneviève become wrapped up in a whodunit involving the Crimson Executioner, a serial killer brutally murdering vampire elders in the city.
At first, the murders perpetrated by the Crimson Executioner seem to be straightforward crimes, however as Kate begins to uncover more information, she discovers bizarre supernatural forces running the show. These powers manipulating the Crimson Executioner are interesting, although they are not well-explained, which is disappointing. Another source of annoyance is the abundance of Italian words and phrases featured in the book. Since the tale is set in Rome, Newman incorporates a lot of Italian into the vernacular of his characters. He logically uses it as an opportunity to enrich his story, however it creates disconnect with the readers who aren't familiar with the language.
As you might expect, Hamish Bond is an unimaginative vampire version of James Bond, but Newman at least has other amusing characters in Dracula Cha Cha Cha. A personal favorite is his use of actor Orson Welles as someone who dabbles in magic and mysticism. Welles serves as an information source and has a particularly humorous rendezvous with Kate and Geneviève. Speaking of Geneviève, it's nice to get to know her better since she was only mentioned in passing during The Bloody Red Baron. She was featured in the novella included with that book, Vampire Romance, though she didn't have long to connect with the reader.
Like The Bloody Red Baron, the latest edition of Dracula Cha Cha Cha also contains a novella by Newman, set after the events of the primary story. This tale, Aquarius, takes place in the swinging 60s and features Kate Reed again. In London, two party girls are discovered dead and drained of all their blood. As Kate investigates, she goes head-to-head with an old foe. This investigation is ultimately more engaging than the one in Cha Cha Cha, but isn't as fun as Vampire Romance.
Dracula Cha Cha Cha and Aquarius are mildly entertaining supernatural murder mysteries, but unfortunately they don't possess the same swiftly moving narrative as their predecessors. Despite their shorter length, they aren't nearly as gripping because the characters have much more depressing inner monologue. The vampires often reflect on old age and mortality, philosophically questioning the concepts. This doesn't make for as compelling of a story, since it hits too close to real life to be the escapism you want.
Dracula Cha Cha Cha is available now in stores and online at www.titanbooks.com.