Book Review: James P. Blaylock's The Aylesford Skull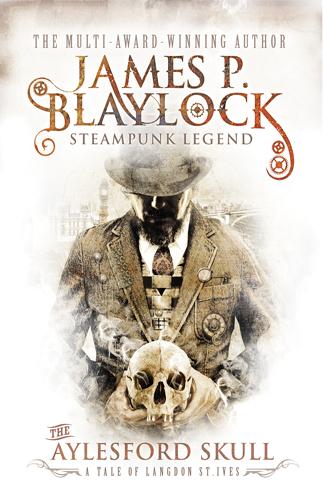 Thankfully I wasn't a total steampunk noob when I sat down to read James P. Blaylock's latest novel The Aylesford Skull. I was luckily introduced to steampunk subculture few years ago, by a memorable newspaper article that profiled avid Massachusetts people in the scene. Since then I've been fascinated by the movement's fusion of science fiction and Victorian era clothing, themes, and technology. So when Titan Books offered me a chance to review a steampunk book, I was excited by the concept of an adventure in this imaginative world. Naturally, I also was a bit wary since this would be my first foray into steampunk literature, but I figured if Blaylock is referred to as a "steampunk legend" then I was probably in safe hands. And I'm happy to report that I was.
Probably the most surprising thing about The Aylesford Skull is how subtly it fits into the steampunk genre. Initially I expected overt reminders of this book's place in the subgenre with all kinds of wacky futuristic contraptions, terminology, and styles of dress. I quickly discovered that the Victorian England inhabited by Blaylock's protagonist Langdon St. Ives, is not very ostentatious. There are occasional references to goggles, airships, and other advanced technology, but nothing that screams steampunk. In fact, Blaylock's setting is remarkably similar to the London of another Victorian era hero: Sherlock Holmes.
As a character, Langdon St. Ives is essentially the steampunk Holmes. Both are brave, intelligent men who consistently find themselves wrapped up on complex mysteries fraught with danger and intrigue. Like Holmes, St. Ives has a faithful companion who is almost always by his side, and he has friends from all walks of life that assist him when needed. Hasbro is St. Ives's equivalent to Watson, and his young friend Finn Conrad seems like he could easily fit in among the young scamps Holmes occasionally employs for assistance. St. Ives even has a nemesis Dr. Narbondo, who's a dastardly mastermind akin to Professor Moriarty. Their resemblance is clearly intentional since Blaylock features a character who aids St. Ives named Arthur Doyle as a nod to Sir Arthur Conan Doyle, the Scottish author who created Sherlock Holmes.
Despite their common traits, St. Ives is not simply a Holmes carbon copy. He's a professor and adventurer as opposed to a detective. St. Ives is also a fuller, more sympathetic character because he's a family man with a wife and children that he cares about. He's not a manic detective obsessed with his work who goes looking for trouble; St. Ives becomes incidentally embroiled in it. This admirable man is motivated by genuine concern for his loved ones, and he'll do anything to protect them.
Blaylock's tale involves supernatural elements, and like Holmes, St. Ives is a man of logic, so he's reluctant to accept the ideas at first. Unlike one of Sir Arthur Conan Doyle's yarns however, The Aylesford Skull doesn't have a rational justification for its fantastic portions. Unfortunately that's one of the book's few shortcomings, its murky, slightly confusing exposition on how the titular Aylesford Skull actually works.
Aside from this thin MacGuffin, The Aylesford Skull is a brisk, fun romp that you'll devour quickly. Throughout the book Blaylock deftly weaves multiple characters and shifting points of view together in a way that effectively maintains momentum and drives the story forward. When the personalities do cross paths, their dialogue has a dry British humor that makes for amusing banter. And while there's no grand explanation of the mystery from the protagonist in the style of Holmes, Blaylock's conclusion is action-packed enough to make up for it. If this is what steampunk literature is supposed to be like, count me in for more outings.
The Aylesford Skull is available in stores and online at www.titanbooks.com.