Book Review: The Art of Rise of the Guardians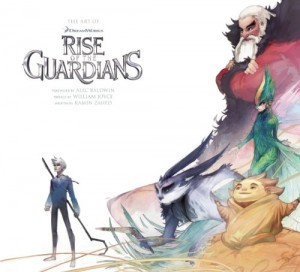 Back in December when I was mailed an Awards Season screener for the animated film Rise of the Guardians, I also received a hefty companion book The Art of Rise of the Guardians by Ramin Zahed. Since it took me a few weeks to watch the screener and I didn't want read the volume without having seen the film, I'm just finally getting around to sharing my thoughts about it.
My favorite parts of the movie were its character design and its fresh, imaginative approach to popular figures from children's folklore, so reading a book about the creative process that went into building this story was actually quite fascinating.
The foreword by actor Alec Baldwin who plays North, the Santa Claus character in the movie and the preface by author William Joyce, who wrote the novels which became the basis for the film, don't add much to this book's experience. Both passages are mostly self-celebratory pats on the back.
However the remainder of the book provides deep insights into the design of the characters and locations in the film, exploring the rationale for why the artists and animators went in specific creative directions. When you read these passages you're surprised by the commitment everyone has made to the project, as well as the level of thought that these folks put into every artistic decision. Even the appearance of specific locations was influenced by how the characters would actually interact with the environments if they were real.
The volume features beautiful artwork and concept drawings organized into logical chapters based on each Guardian in the film, the villain, and the world home to regular humans in the story. Full captions for the images are missing which is slightly disappointing, although if you've seen the film, they're relatively self-explanatory.
My favorite section of this book tackles a specific sequence in the movie, walking through all of the departments that contributed to the finished project and how their individual efforts came together. It's helpfully mapped out visually with a fold out poster. What's deceiving about this poster and awkward about it though, is that you can't remove it from the book. It seems like you should be able to because it's difficult to fold back in without ripping.
If you really enjoyed Rise of the Guardians, The Art of Rise of the Guardians is worth a read and will make a terrific coffee table book, but if you haven't seen it you won't get nearly as much pleasure from its dissection of the movie's magic.
The Art of Rise of the Guardians is available online and at www.insighteditions.com.