Get Your 'Cabin In The Woods' Fix With The Official Novelization And Visual Companion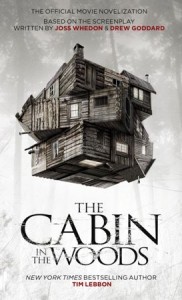 If you saw The Cabin in the Woods several times in theaters like I did, then you also can't get enough of Drew Goddard and Joss Whedon's horror masterpiece. One of the best parts about their intriguing flick is noticing more nods to genre classics and jokes with each viewing.
You should be able to catch anything that you missed last screening and find out all sorts of delicious new factoids when the film arrives on DVD. While you're waiting for your chance to watch it at home though, Titan Books has released two great ways to get your Cabin fix:  The Cabin in the Woods – The Official Movie Novelization and The Cabin in the Woods – The Official Visual Companion.