Posts tagged
Dr. Moreau
0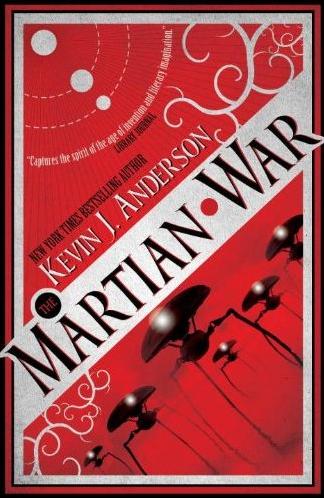 Thankfully the H.G. Wells literary classic
The War of the Worlds
is a work of fiction. Angry Martians never invaded Earth to enslave the human race. But what if they almost did? To learn the answer to that question, you'll just have to read Kevin J. Anderson's latest novel,
The Martian War
.
Anderson's mashup of historical and science fiction operates under the premise that the famous H.G. Wells tale of interplanetary conflict, didn't just spring from the author's imagination; it was inspired by his actual contact with a hostile Martian race. Using a combination of real individuals like Wells, T.H. Huxley, and Percival Lowell, as well as fictional ones like Wells character Dr. Moreau, Anderson crafts a thrilling old-fashioned science fiction adventure.
To convince you of the alternate reality that he has crafted, Anderson heavily borrows biographical details from the lives of Wells, Huxley, and Lowell to flesh out their characters. Wells especially, tends to be very introspective, often reflecting on his low income upbringing, his failed first marriage to his cousin, and reasons for the success of his relationship with former student Jane. Huxley is characterized by Wells for his firm support of Darwin, his intense passion for science, and his youthful curiosity. Lowell's obsession with astronomy, wealthy background, and intense drive are viewed through the lens of vivisectionist Dr. Moreau, who describes his adventures with the Boston industrialist.
The Martian War is successfully split into two alternating narratives. The first is the diary of Dr. Moreau, which recounts how the doctor partnered with Percival Lowell to attract Martian visitors to Earth and to study them once they arrived. This journal describes the trials and tribulations that the pair experience once they get their wish and encounter extraterrestrial life. The second story follows Wells, Jane, and Huxley on a wild ride that carries them from Earth to the Moon and then to Mars itself, where they must stop with the Martians from invading our planet.
Both narratives are weaved together quite effectively, but Anderson really hits his stride toward the middle of the book, after Wells, Jane, and Huxley acquire Moreau's diary. They take breaks to read the book, transporting you back in time and placing you in Moreau's shoes. For them and for us as the readers, the journal helps provide valuable information on the physical properties, as well as the motives of these alien life forms. Wells, Jane, and Huxley are able to use this intelligence to their advantage when dealing with their foes.
The pacing and the flow of Anderson's novel are spot on, although where the author truly excels in this piece, is his recreation of the late 1890s historical era in his style of writing. Anderson effortlessly mimics the colorful imagination of science fiction novelists like H.G. Wells and Jules Verne through his descriptions of alien species. He also forms vivid depictions of turn-of-the-century technology that sound believable for the time. As a result, his tale comes off as very convincing.
If you're a big fan of Anderson as a writer, or if you just like old school sci-fi books in the vein of Wells and Verne, then you should definitely read The Martian War.
The Martian War is currently available in stores and online at www.titanbooks.com.
0
I was at a critical disadvantage when I started Sherlock Holmes – The Army of Dr Moreau by Guy Adams. That's because I never read any of Sir Arthur Conan Doyle's Sherlock Holmes stories or the H.G. Wells tale The Island of Doctor Moreau. So I knew that I couldn't critique Adams' versions of the characters in relation to the originals.
Despite my inexperience with Doyle and Wells, popular culture had already given me enough background on Sherlock Holmes, and the crappy 1996 movie The Island of Dr. Moreau acquainted me with Dr. Moreau. While a general understanding of Holmes as a character was necessary for me to get into this novel, prior knowledge about Moreau was not since Adams provides adequate back story. Seeing Moreau's hideous creations in the Marlon Brando/Val Kilmer flick did help me better visualize their physical appearance as I was reading though.
The mystery at the heart of this Guy Adams novel leans more toward the horror genre than typical Sherlock Holmes cases. Mutilated bodies are turning up in London with wounds clearly caused by ferocious exotic animals. Sherlock Holmes is visited by his brother Mycroft, who is certain that the murders are the calling card of the deranged Dr Moreau, a biologist who was employed by the British Government. Moreau expanded on the work of Charles Darwin, before his grotesque experiments were halted for attracting negative publicity. Mycroft thinks that Moreau's research has resumed and charges his brother with tracking down the rogue scientist before the situation grows out of control.
Just like Doyle's Holmes adventures, Adams sets up The Army of Dr Moreau as story within a story. Holmes' trusty partner Watson acts as the narrator, talking to the reader while he uses his notes to recount the events of the case. In this way, Adams gives his book a humorous Meta quality. One of the novel's funniest scenes involves Watson's visit to his editor at The Strand, the real magazine which published Doyle's Holmes stories. It's easy to chuckle at this self-aware tale, when the editor cleverly remarks "Some people just can't help but blur the lines between fiction and reality."
Similar to its portrayal in the Guy Ritchie Sherlock Holmes films, the relationship between Holmes and Watson in The Army of Dr Moreau is fraught by Holmes' predilection for leaving his partner in the dark. Adams provides entertaining depth to their delicate relationship as Watson openly vents about his frustrations. Sometimes he's playful like when says to Holmes "You are quite the most irritating man I know," but in other moments Watson is deadly serious "In all honesty I felt like leaving Baker Street just as I had those few years ago, not to take up a new life as had been the case then, but simply to eradicate the irritations of the current one."
One great trick Adams uses to keep the narrative interesting is to allow other characters like Sherlock and Mycroft to take over narration after Watson is kidnapped by the villain. As a result, the final conflict is much more exciting because you get to experience it from all of the angles and players involved in the master plan.
Although The Army of Dr Moreau is a riveting mystery, surprisingly it's not all action and fluff. Given Moreau's heinous experiments on animals as a vivisectionist, the characters raise important ethical and moral questions about the doctor's work like when Holmes asks "Is man wrong to interfere in the passage of so-called natural law or is he simply exhibiting the intelligent dominance the proves the validity of the law?" Statements like that will leave you thinking long after you finish this book.
Sherlock Holmes – The Army of Dr Moreau is available now in stores and online at www.titanbooks.com.