Posts tagged
James Bond
0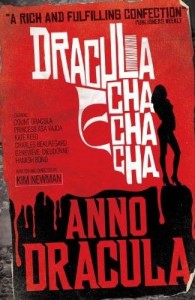 Dancing the cha-cha-cha, doesn't compare to the excitement of flying biplanes.
Back in May, Kim Newman's novel Anno Dracula: The Bloody Red Baron, hooked me with its engaging blend of real life figures and fictional characters, as well as its fast-paced espionage and intrigue. Based on that, I was excited to read his follow-up book, Dracula Cha Cha Cha, because I anticipated another exhilarating adventure in his alternate reality where humans and vampires coexist. Unfortunately for me and my expectations, Cha Cha Cha fails to measure up to the high standards set by its predecessor.
Dracula Cha Cha Cha takes place roughly 40 years after the events of The Bloody Red Baron. Following World War II in this universe, Count Dracula slipped into relative obscurity, secluding himself in a castle near Rome. Now in 1959, Dracula plots to marry Moldavian princess to return himself to a seat of power as Lord of the Undead. Meanwhile, journalist Kate Reed arrives in Rome to visit her ailing friend Charles Beauregard, a retired spy who lives with his vampire companion Geneviève. Along with the undead British secret agent Hamish Bond, Kate and Geneviève become wrapped up in a whodunit involving the Crimson Executioner, a serial killer brutally murdering vampire elders in the city.
At first, the murders perpetrated by the Crimson Executioner seem to be straightforward crimes, however as Kate begins to uncover more information, she discovers bizarre supernatural forces running the show. These powers manipulating the Crimson Executioner are interesting, although they are not well-explained, which is disappointing. Another source of annoyance is the abundance of Italian words and phrases featured in the book. Since the tale is set in Rome, Newman incorporates a lot of Italian into the vernacular of his characters. He logically uses it as an opportunity to enrich his story, however it creates disconnect with the readers who aren't familiar with the language.
As you might expect, Hamish Bond is an unimaginative vampire version of James Bond, but Newman at least has other amusing characters in Dracula Cha Cha Cha. A personal favorite is his use of actor Orson Welles as someone who dabbles in magic and mysticism. Welles serves as an information source and has a particularly humorous rendezvous with Kate and Geneviève. Speaking of Geneviève, it's nice to get to know her better since she was only mentioned in passing during The Bloody Red Baron. She was featured in the novella included with that book, Vampire Romance, though she didn't have long to connect with the reader.
Like The Bloody Red Baron, the latest edition of Dracula Cha Cha Cha also contains a novella by Newman, set after the events of the primary story. This tale, Aquarius, takes place in the swinging 60s and features Kate Reed again. In London, two party girls are discovered dead and drained of all their blood. As Kate investigates, she goes head-to-head with an old foe. This investigation is ultimately more engaging than the one in Cha Cha Cha, but isn't as fun as Vampire Romance.
Dracula Cha Cha Cha and Aquarius are mildly entertaining supernatural murder mysteries, but unfortunately they don't possess the same swiftly moving narrative as their predecessors. Despite their shorter length, they aren't nearly as gripping because the characters have much more depressing inner monologue. The vampires often reflect on old age and mortality, philosophically questioning the concepts. This doesn't make for as compelling of a story, since it hits too close to real life to be the escapism you want.
Dracula Cha Cha Cha is available now in stores and online at www.titanbooks.com.
0
Do you expect me to talk?
No Mr. Bond, I expect you to read!
I'm not a hardcore fan by any means, but I'm very familiar with British secret agent James Bond. I love movies and video games featuring the titular character for the same reasons most people do: they have exotic locations, expensive cars, cool gadgets, sexy women, maniacal villains, and plenty of action. Despite their formulaic nature, these tales still manage to please us because they unapologetically embrace these dependable staples. Fortunately Jim Lawrence and Yaroslav Horak's Bond comics in The James Bond Omnibus 004 operate the exact same way.  They work within the established formula to create entertaining Bond adventures that feel right at home in the hero's mythology.
Somehow I had never heard of Lawrence and Horak's Bond 1970s comic series until Titan Books recently sent me a copy of Omnibus 004. I wish I had discovered the comics sooner though, because Lawrence's writing and Horak's artwork work very effectively together to tell engrossing, Bond stories.
Similar to the Bond films, these missions have droll names such as "Trouble Spot," "Die with My Boots On," "The Girl Machine," and "The Phoenix Project." Bond travels to interesting places and gets himself into dangerous situations, but in classic fashion, he always beats the bad guy, usually right after the villain stupidly spills all of his plans for world domination. Then Bond gets the girl.
Lawrence writes Bond in the vein of Sean Connery's version of the character. Bond is a misogynist who patronizingly refers to all women as "luv" and frequently asks them to stay out of the way. It's a good thing they don't listen, since they often end up saving him from danger. He might not acknowledge it, but the women in these operations are very much equal partners in trying to accomplish the endgame. Whether it's intended or not there are definite feminist undertones in the series.
In addition to being a chick magnet Lawrence's Bond also has the trademark Bond sense of humor. He makes puns after killing henchmen, like a moment after he forces some off a cliff, and has a comment about them "taking the plunge." His female counterpart is exasperated by his morbid joke, though not for very long. Bond also uses an alias to be sneaky, something I don't remember him doing before. In several of the comics he refers to himself as Mark Hazard, a phony name that the bad guys see through very quickly. Then it's back to "Bond, James Bond."
One of the most fascinating parts about these comics is Bond's partnership with black allies. These characters may have silly stereotypical names like Crystal Kelly and Smoky Turpin, but don't be fooled. These black characters, like the female ones, are equals with Bond in helping to take out the bad guys, something that would have been pretty progressive at the time these comics were being written.
Lawrence isn't the only one worthy of praise, Horak deserves kudos too for his distinct artwork. Strangely Bond looks the most like George Lazenby, who only played the character once. Though Horak's version an impressive medley of Connery and all the Bonds after aside from Daniel Craig. Horak's black and white drawings prevent the violence in these Bond tales from becoming overwhelming and allow him to show more skin than the films do. His visual style bears a retro flair that looks dated but feels like classic Bond.
If you love all things James Bond, you should check out The James Bond Omnibus 004. Even if you're not familiar with the character though, you can still have fun if you dig comics. Inside this volume you'll find a collection of enjoyable, easy-to-read comics which fit appropriately into Bond canon.
The James Bond Omnibus 004 is available now in stores and online at www.titanbooks.com.
5
James Bond films have trends you can set your Omega Seamaster by: exotic locations, expensive cars, cool gadgets, sexy women, and maniacal villains. Given their tendency to be so over-the-top, you never expect Bond movies to emphasize production value beyond their special effects budgets. That's why "Skyfall," Bond's 23rd big-screen adventure, is a surprising game-changer for the 50-year-old franchise.