Posts tagged
Kevin J. Anderson
0
Nothing can keep P.I. Dan Chambeaux from his work, not even death itself. In author Kevin J. Anderson's humorous horror-themed novel "Death Warmed Over," the zombie private investigator rises from his grave to continue business as usual; well, the closest to usual that his business gets. Along with his partner, attorney Robin Deyer, Chambeaux, aka Shamble, serves citizens of paranormal New Orleans, recently redubbed The Big Uneasy. Their agency Chambeaux and Deyer provides much-needed legal and investigatory services for supernatural beings in the city's Unnatural Quarter.
Surprisingly, Chambeaux and Deyer have more than enough cases to keep them busy. Shamble's own untimely murder and the poisoning of his girlfriend-turned-ghost Sheyenne, are just two of the ones he's tackling. His docket also includes a vampire harassed by humans, a wealthy werewolf's messy divorce, a witch harmed by a spell book's typo, a ghost locked in a creative property dispute with his heirs, and an unwanted relative haunting his family. Handling them all won't be easy, because as Shamble says, "The cases don't solve themselves."
The funniest and most fascinating part of Anderson's tale, is the complexity of his clients' legal issues. Concrete concepts such as life, death, marriage, and property have become a lot less black and white now that ghosts, zombies, mummies, witches, and werewolves occupy the land of the living. As a result, Chambeaux and Deyer have to help their clients navigate difficult, often silly situations to forge legal precedents, which ensure equal rights for everyone. Who knew the afterlife could be so hilariously complicated?
Similar to film noir and pulp detective literature, the novel's events are recounted in the first-person from Shamble's perspective. This style flows well for the most part, but it does grow a bit tiresome because Shamble has a tendency to repeat himself when describing his appearance, habits, backstory, and romantic past with Sheyenne. Additionally, the type of humor that Anderson uses has difficulty finding the right audience. It's too old for teens, although not quite mature enough for regular adults. Jokes are occasionally lewd and involve pop culture references to various movies and television shows in the horror genre, yet they don't seem efficiently targeted toward a specific group of readers.
Another thing that "Death Warmed Over" struggles with in the beginning, is connecting all Shamble's smaller cases in a meaningful way. For a portion of the story, Shamble's work feels very procedural, and better suited to television's episodic nature. Also, Anderson doesn't do a great job of explaining how all of these supernatural beings started showing up in the first place. However, as he progresses, Anderson ties everything together effectively, so that he gives you a sense of closure, while still leaving room for future novels with this character.
Speaking of future novels, Anderson has the opportunity to build a beloved series with his next Dan Chambeaux adventure, but whether he will or not, still remains to be seen. To do that he'll have to refine his approach to the character's narration, hone his humor toward a more particular audience, and start connecting Chambeaux's minor cases to the major plot earlier.
"Death Warmed Over" is available on Amazon and at www.kesingtonbooks.com.
0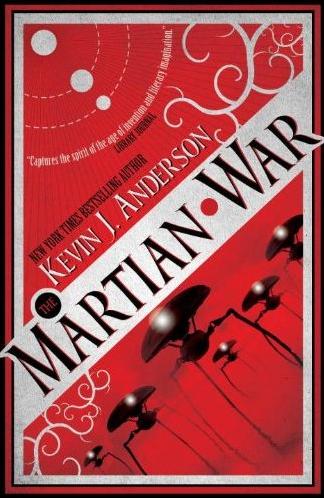 Thankfully the H.G. Wells literary classic
The War of the Worlds
is a work of fiction. Angry Martians never invaded Earth to enslave the human race. But what if they almost did? To learn the answer to that question, you'll just have to read Kevin J. Anderson's latest novel,
The Martian War
.
Anderson's mashup of historical and science fiction operates under the premise that the famous H.G. Wells tale of interplanetary conflict, didn't just spring from the author's imagination; it was inspired by his actual contact with a hostile Martian race. Using a combination of real individuals like Wells, T.H. Huxley, and Percival Lowell, as well as fictional ones like Wells character Dr. Moreau, Anderson crafts a thrilling old-fashioned science fiction adventure.
To convince you of the alternate reality that he has crafted, Anderson heavily borrows biographical details from the lives of Wells, Huxley, and Lowell to flesh out their characters. Wells especially, tends to be very introspective, often reflecting on his low income upbringing, his failed first marriage to his cousin, and reasons for the success of his relationship with former student Jane. Huxley is characterized by Wells for his firm support of Darwin, his intense passion for science, and his youthful curiosity. Lowell's obsession with astronomy, wealthy background, and intense drive are viewed through the lens of vivisectionist Dr. Moreau, who describes his adventures with the Boston industrialist.
The Martian War is successfully split into two alternating narratives. The first is the diary of Dr. Moreau, which recounts how the doctor partnered with Percival Lowell to attract Martian visitors to Earth and to study them once they arrived. This journal describes the trials and tribulations that the pair experience once they get their wish and encounter extraterrestrial life. The second story follows Wells, Jane, and Huxley on a wild ride that carries them from Earth to the Moon and then to Mars itself, where they must stop with the Martians from invading our planet.
Both narratives are weaved together quite effectively, but Anderson really hits his stride toward the middle of the book, after Wells, Jane, and Huxley acquire Moreau's diary. They take breaks to read the book, transporting you back in time and placing you in Moreau's shoes. For them and for us as the readers, the journal helps provide valuable information on the physical properties, as well as the motives of these alien life forms. Wells, Jane, and Huxley are able to use this intelligence to their advantage when dealing with their foes.
The pacing and the flow of Anderson's novel are spot on, although where the author truly excels in this piece, is his recreation of the late 1890s historical era in his style of writing. Anderson effortlessly mimics the colorful imagination of science fiction novelists like H.G. Wells and Jules Verne through his descriptions of alien species. He also forms vivid depictions of turn-of-the-century technology that sound believable for the time. As a result, his tale comes off as very convincing.
If you're a big fan of Anderson as a writer, or if you just like old school sci-fi books in the vein of Wells and Verne, then you should definitely read The Martian War.
The Martian War is currently available in stores and online at www.titanbooks.com.