'World War Z' is an Expensive Misfire for Pitt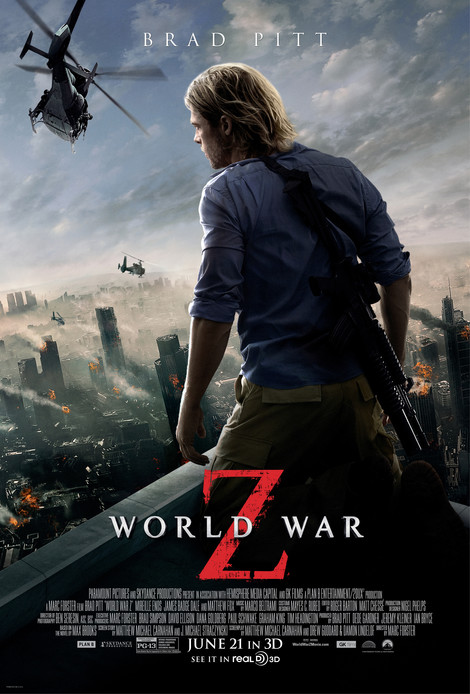 To call Marc Forster's "World War Z" an adaptation, would be an injustice to the gripping zombie novel it's supposed to be based on. The movie masquerades as a big-screen version of the popular Max Brooks book, but underneath that cheap disguise, it is a total stranger. Using the scummiest tactic possible, the filmmakers purchase a name that has credibility with zombiephiles in order to entice viewers. Then with everyone's rapt attention, they betray the book's reputation by creating a narrative driven in their own ineffective direction.
As a novel, "World War Z" is fascinating because it takes place several years after the zombie plague. Humanity has bounced back from the brink of extinction and a journalist is documenting extraordinary tales of how people conquered the outbreak. Each chapter represents a different story told from a single person's perspective. What's so engrossing about this particular narrative model is that it vividly depicts the scale of the horrifying experiences its subjects lived through. The novel also reveals the clever strategies that humans used to turn the tide in the war against the zombies.
Unfortunately, the rich perspective created by the book is totally lost with the movie. The writers Matthew Michael Carnahan, Drew Goddard, and Damon Lindelof rob you of it all by only focusing on a single person's point of view. In a storytelling strategy clearly based on the need to turn this movie into a Brad Pitt vehicle, "World War Z" follows Gerry Lane (Pitt), a former UN investigator and family man who becomes a key figure in the fight against the zombie outbreak.
After all hell breaks lose and the world's population is swiftly overtaken by the disease, Lane is summoned to assist with stemming the outbreak. Due to his keen observational skills and ability to think on his feet, the powers that be task him with finding the source of the infection and determining a way to stop it. Lane is forced to leave his family behind, while he hops precariously from Korea to Israel and then to England in a desperate race against time, hoping to quash the global epidemic.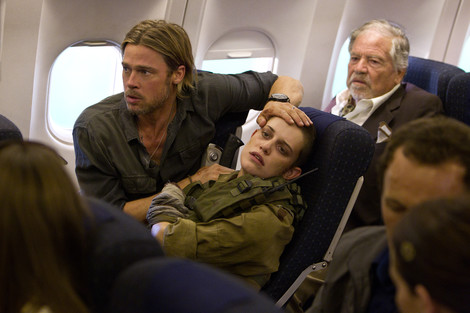 Sounds nothing like the book right? It's actually a lot more like Steven Soderbergh's "Contagion" with its plot and its unsettling piano-laced music. And yes, it's expected that some things might have to change with this story, given the nature of film as a medium. However there's no need to butcher the author's original intent when doing so, like this movie does. Pictures such as "L.A. Confidential" show that it's possible to do justice to the source material, while still exercising creative license.
Aside from its deviations from the book, another annoying aspect of "World War Z" is its inability to decide whether it wants to be a horror film or a thriller. There are a few great jump scares and some frightening up close shots of zombies that look cool, especially in 3D. Plus there are horror-inspired scenes where noise at inconvenient times, attracts zombies. However, the movie largely relies on big action set pieces to maintain your interest, like its frantic foot chase in Israel and its unbelievable situation involving a hand grenade on an airplane. It probably would have better as straight horror, because a 3D zombie movie would have been epic.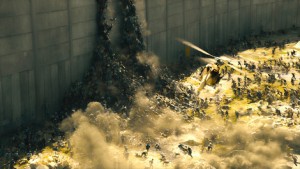 There is one great aspect of "World War Z" that draws inspiration from the book: how the zombies are portrayed. Taking cues from nicknames like "rabies" that the novel gives the disease, the ghouls in the movie operate like rabid humans. They're fast, their bites take effect within seconds, and they work collaboratively. The filmmakers make these zombies fascinating because they act like flocks of birds or schools of fish. They swarm in great numbers, climbing on top of one another, scrambling and leaping to reach their prey. To its credit, "World War Z" also does a good job showing how quickly society would collapse during an outbreak with intense rioting, looting, and mass hysteria.
Despite all the effort Pitt's character goes through, "World War Z" has a disappointing anticlimactic ending, with a lot of buildup for very little reward. Frustratingly, it is neither a captivating zombie flick nor a taut thriller. The film is a big budget Brad Pitt vehicle that's not terribly interesting or inventive, regardless of whether you've read "World War Z." It's sad the amount of time, money, and energy Brat Pitt sank into this movie, because it might be the most expensive misfire of his career.
My Grade: C…as in Come On! You Can Do Better Than That!